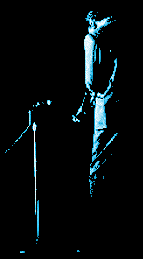 Jools Holland talks to Miles Davis

UK Broadcast : Channel 4.
Programme : The Tube. 14th November 1986.

This is a real rarity. Miles was actually prepared to be interviewed live on television,for which all credit must go to the programmes presenter Jools Holland for even attempting it ...or was it that someone just had the good sense to invite him while he was in the UK ?
On this occasion however, not on tour with his group but doing promotion for his latest video 'TuTu' and showing some of his recent sketches and paintings which had been previously exhibited by a German art gallery.
Listen out for his reaction when Jools asked him about "..straight playing...." a phrase he was obviously not familier with in a musical context, and then his rather terse views on some contemporary singers.
The conversation lasted just 4 minutes before they cut to the video. It was possibly the only time he had ever been seen in conversation live on UK television.