Fela Anikulapo Kuti
(Fela Ransome Kuti, Abeokuta, Nigeria, 1938 - 1997)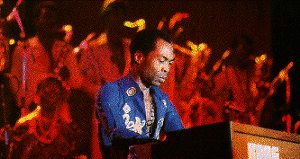 Singer-composer, bandleader, trumpet, saxophone, keyboard player, and politician. Kuti is one of Africa's most revered names.
He began as a highlife singer in 1954 and during this period developed his own unusual sound which he described as highlife-jazz.
In 1968 Kuti announced the arrival of Afro-beat, and within the year was taking his music on a 10-month tour of America where he became influenced by the new jazz movement at the time. On returning to Nigeria he opened a nightclub, the Shrine, and changed the name of his band to Africa 70. His outspoken views and fight for the rights of the common man and woman made him unpopular with the government but a hero to the people and when in 1979 the people returned to power in the country Kuti began his own political party - MOP (Movement of the People). However the military returned to power in 1983 and within the year Kuti was sentenced to five years imprisonment on a spurious currency smuggling charge.

He was released in 1986 after yet another change of government. The band reformed as Egypt 80 included a huge and exciting line-up of singers, dancers, horn section, drummers, percussionists and several guitarists. By the 1990's he had recorded a prolific amount of work as evident by his discography.
Fela Anikulapo Kuti, musician and political rebel, died of an Aids-related illness at his home in Nigeria on August 2 1997 at the age of 58.


Many of his recordings are unavailable outside the country. Noise For Vendor Mouth by the Africa 70 band is a recognised classic.

Discography follows:

1970 Fela's London Scene-HNLX 5200
1971 Open And Close-HNLX 5090
1971 Live With Ginger Baker (also M 2400) SLRZ 1023
1972 Shakara (also EM 23045)-EMI 008N
1972 Music Of Fela; RofoRofo Fight (also EM 2307) JJLP 1001
1973 Gentleman NEMI 0009
1973 Afrodisiak EMI 062
1974 Alagbon Close (also EM 2313) JILP 1002
1974 Music Of Fela; Question Jam Answer EM2309
1975 He Miss Road EMI 006N
1975 Expensive Shit SWS 101
1975 Noise For Vendor Mouth ABRO 11
1975 Everything Scatter PMLP 1000
1975 Again, Excuse-O PLMP 1002
1975 Confusion NEMI 0004
1976 Upside Down DWAPS2005
1976 No Bread (also EM 2382- Unnecessary Begging) SWS 1003
1976 J.J.D. DWAPS2023
1976 Yellow Fever DWAPS2004
1976 Monkey Banana PMLP 1001
1976 Zombie CRLP 511
1976 Kalakuta Show CRLP 507 (Also EM 2320)
1976 Ikoyi Blindness LP 001
1977 Stalemate DWAPS2033
1977 Fear Not For Man DWAPS2035
1977 Sorrow Tears And Blood KK 001
1977 Opposite People DWAPS2026
1977 No Agreement DWAPS2039
1978 Shuffering And Schmiling PMLP 1005
1979 Unknown Soldier SKLP 003
1979 Vagabonds In Power KILP 001
1979 I.T.T. K 203554
1980 Authority Stealing
1980 Fela and Roy Ayers PHD 003
1980 Coffin For Head Of State KALP 003
1980 Black President ARISTA
1980 Original Sufferhead SPART1177
1982 Alu Jon Jonkijon (double) EDP1547203
1983 Perambulator LIR 6
1984 Live In Amsterdam (double) 24 01293
1984 Live In Amsterdam PH 2000
1985 Army Arrangement CEL 6109
1985 Greatest Hits 1986I Go Shout Plenty/Why Black Man Dey Suffer
(re-iss)PH 2001 Zombie/ Suffering and Smiling/ Monkey Banana/ Everything Scatter-DWAPS 2251
1986 No Agreement/ Dog Eat Dog PH 2003
1986 Jenwi Temi PH 2005
1987 Teacher Dont Teach Me Nonsense LONDP 28
1988 BlackMan's Cry JD 160229
1988 Fela And Roy Ayers : 2000 Blacks JD 160230
1988 Beasts Of No Nation / Just Like That JDEUR360153
1988 Black Man's Cry (double) JDEUR360229
1990 ODOO/ Overtake Don Overtake/ Confusion Break Bones JDEUR360442
1990 Confusion Break Bones/ Which Head Never Steal K 010
1990 Fela Vol. 1: 1975-1978 WM 160 443
1990 Fela Vol. 2: 1981-1984 WM 160 444
1990 Fela Vol. 3: 1985-1986 WM 160 445

VIDEOS
1984 Teacher Dont Teach Me No Nonsense - HEN 2 090
1984 Fela Live - HEN 2 091

back to top